It's October and that means one thing: footy fans like me are having serious withdrawals and are so hungry for decent sport we could chew the crotch out of a low flying duck, metaphorically speaking of course. Some folks get their sporting fix by turning their attention to the Spring Carnival races, but unless you have money invested, no one really cares which horse actually wins. Others look to the cricket, but there are many who don't like waiting five days only to find out the result is a draw.
All this makes the NBA, the world's premier basketball competition, an attractive option for many. There's plenty of teams to choose from, there's a game on virtually every night for 9 months, and, thanks to the concept of overtime, a winner is guaranteed each game. As an added bonus there are also plenty of shirtfronts to watch, which this humble hard hitting freelance sports journo particularly enjoys.
The start of every season is a unique time for fans. It is filled with optimism and high expectations. Even the worst teams have reason to brighten their Hale and Paces. You see, only five players are ever on the court at one time, and that means even the most dysfunctional teams can quickly become contenders by swapping just one or two mugs out for a couple of studs.
However as the professional hard hitting freelance sports journo I am, I've done some extensive research into all 30 NBA teams and I have some bad news for quite a few fans. Now it is said that there are very few certainties in life; death, taxes, Richie Benaud. Here at The Shirtfront I think there are a few more than the oft quoted ones aforementioned. For instance, I can confidently say, without a shred of doubt, that 27 of the 30 NBA teams have ABSOLUTELY NO CHANCE of winning the title this season. And in case the bold font didn't stress the point enough I really do mean no chance. Absolutely 0% chance. Not even a snowflake's chance in a flatulent man's bedspread.
This means that 90% of the upcoming games this season are purely meaningless padding to meet contractual obligations with the TV networks before the "real" season begins in late May 2015. Not that I'm complaining, the biffo is great to watch regardless! Below is the Flash Hawkins summary of each team. My basketball philosophy is unashamedly simple: historically teams can win either by being supremely talented (e.g. Miami 2011-13), or supremely tough (e.g. Detroit 2004). If a team is both then you have the 1996 Chicago Bulls, featuring Australia's own Luc Longley. Coaching does make a difference but their influence is relatively minor when compared with the other two factors. This was clearly demonstrated in the 2012/13 Finals, where the best coached team in the NBA lost the series to a team being coached by a glorified water boy. So, in short, a team's fortunes can be accurately measured by both grading the basketball talent on the roster, and the extent to which the team can embrace the rough stuff when it is called for:
1. Philadelphia 76ers
Coach: Brett Brown
Best Player: Nerlens Noel
Overall Talent: F-
Toughest Nut: Tony Wroten
Overall Toughness: F-
Flash's Summary: I'd hate to be the sap in charge of selling season tickets and corporate boxes for this mob. Plumbing new depths like a pile of Jacques Cousteau enthusiasts. This is doubly appropriate because I'm pretty sure Cousteau invented the oxygen tank, and tanking is exactly what the 76ers are doing. Coach Brown seems a top bloke with a good Aussie connection, but apart from that, the only thing worth following on this team is Joel Embiid's twitter account.
Why they can't win: Because they don't want to, at least not this year.
2. Milwaukee Bucks
Coach: Jason Kidd
Best Player: O.J Mayo
Overall Talent: F
Toughest Nut: Zaza Pachulia
Overall Toughness: F
Flash's Summary: People applaud their selection of Jabari Parker at number 2, but I'm not so sure. Parker said he wanted to play for this organisation, which suggests he has the IQ of someone who believes in the wild claims of Joseph Smith. New coach Jason Kidd will be playing the kids and hoping some of them are good. So far, none of them look good.
Why they can't win: Because mixing Orange Juice with Mayonnaise is a recipe for vomit.
3. Boston Celtics
Coach: Brad Stevens
Best Player: Rajan Rondo
Overall Talent: D
Toughest Nut: Gerald Wallace
Overall Toughness: C
Flash's Summary: Apart from having only one decent player, the main problem with the Celtics is their coach. Brad Stevens looks younger than the players, which worries me. A good coach needs to be able to strike fear into the hearts of the playing group. If Stevens ever tried to dish out some tough love, the players would simply smile and pat the guy on the head.
Why they can't win: Because even when Rondo was just the 4th best player on this team, they still were only able to win once.
4. Orlando Magic
Coach: Jacque Vaughn
Best Player: Victor Oladipo
Overall Talent: F
Toughest Nut: Aaron Gordon
Overall Toughness: D-
Flash's Summary: This team is going to need a whole lot more than magic to conjure up more than 15 wins. They bizarrely signed up Channing Frye for huge dollars. Perhaps they thought he was Channing Tatum and they would start marketing the games as off Broadway musicals. Having the legendary singer Seal as their coach helps them greatly if they went in that direction.
Why they can't win: The roster has contracted an STD, which is not surprising given they brought in a guy named Willie Green.
5. Detroit Pistons
Coach: Stan Van Gundy
Best Player: Andre Drummond
Overall Talent: D-
Toughest Nut: Jonas Jerebko
Overall Toughness: C
Flash's Summary: I Really like Drummond. If he could learn how to shoot, he could become a Wilt "the Stilt" Chamberlain clone. Sadly he won't get the chance to learn, with Josh Smith and Brandon Jennings demanding their fair share of shots to miss each game. Stan Van Gundy with his legendary moustache will bring the "mo" back  in to Motown, but it needs time to grow.
Why they can't win: Because of the parlous state of the car manufacturing industry in the USA.
6. Minnesota Timberwolves
Coach: Flip Saunders
Best Player: Ricky Rubio
Overall Talent: D
Toughest Nut: Nikola Pekovic
Overall Toughness: C
Flash's Summary: They still have a Kevin on their team, just not the one they wanted. They did manage to get some compensation for losing Kevin Love, picking up exciting number 1 pick Andrew Wiggins and some other guy. Despite this, there'll be no Love lost when they next play the Cavaliers. See what I did there? Among the journalism fraternity that is known as an incredibly witty pun. Pekovic looks like he belongs in a Bond film, but he's actually a lot more coordinated than most blokes his size.
Why they can't win: Because it's too big of a leap to go from starring in I Love Lucy to leading an NBA team to a championship.
7. Utah Jazz
Coach: Quin Snyder
Best Player: Gordon Hayward
Overall Talent: D
Toughest Nut: Dante Exum
Overall Toughness: C
Flash's Summary: You know your team is going to struggle when your max contract franchise player is the underwhelming Gordon Hayward. However, the Shirtfront is big on Exum. As an Aussie surrounded by a pile of Mormons , it automatically makes him the toughest bloke in Salt Lake City. And like Salt Lake City's, Dante's peak has plenty of altitude. I also like Coach Quin Snyder, he says all the right things but it does worry me that he looks a lot like "Wormtongue" from Lord of the Rings. And Wormtongue didn't last long as coach of the horse-lords in that story.
Why they can't win: Because a front line with names like Booker and Favors, they will no doubt become embroiled in a match fixing scandal.
8. Sacramento Kings
Coach: Michael Malone
Best Player: DeMarcus Cousins
Overall Talent: C-
Toughest Nut: DeMarcus Cousins
Overall Toughness: C
Flash's Summary: DeMarr, Dwyane, DeMarcus. This humble Aussie fails to understand the seeming obsession with whacking a "D" in front of an otherwise perfectly respectable christian name. The only D  that should ever be added to a name should be at the end, not the beginning, and with a "ph" next to it. In spite, or perhaps because of, his stupid name, Cousins is an exciting player. Holding him back though are some clueless recruiters whom, presumably after watching the tear jerking movie Rudy,  brought in Rudy Gay, to inspire a similar fairy tale in Sacramento; the underdog team in the Western Conference conquering their more highly fancied rivals. Unfortunately though, just like both Rudys, this team lacks the talent to pull it off.
Why they can't win: Because despite recruiting the only NBA player from Israel, Omri Casspi, they would need the world's most famous Israeli on their roster instead to pull of the miracle of winning the NBA championship.
9. LA Lakers
Coach: Byron Scott
Best Player: Kobe Bryant
Overall Talent: D-
Toughest Nut: Robert Sacre
Overall Toughness: C-
Flash's Summary: Despite being a "destination" team, no one of note opted to play for the Lakers. Clearly the stench on this team was smelt when Pau Gasol left. If  the nicest bloke in the world, who had been able to put up with Kobe all this time in the interests of championship glory, saw fit to flee to Chicago, which has much worse weather, then no one else would be dumb enough to come. Worse still, Carlos Boozer chose to play with them. Aussie girl Iggy Azalea's boyfriend Nick "Swaggy P" Young looks a player, and any time he would like to defect and play for the Boomers would be fine with me. Because he is obviously the team's dealer, management agreed to sign below average center Jordan Hill on a huge contract.
Why they can't win: Because Steve Nash wants the money.
10. New York Knicks
Coach: Derek Fisher
Best Player: Carmelo Anthony
Overall Talent: C+
Toughest Nut: Derek Fisher
Overall Toughness: F-
Flash's Summary: Fisher may have to come out of retirement and play for this mob. This is the softest collective of players, possibly ever assembled. Their only two tough players, Tyson Chandler and Raymond "Felon" Felton, were traded to Dallas in the offseason. This wouldn't be such a problem if it weren't for the fact that they also have a terminal lack of talent to support Carmelo Anthony. This is unfortunately because anyone with talent does not want to play with a ball hog like Carmelo.
Why they can't win: Because Isaiah Thomas was once allowed to work for the franchise.
11. Indiana Pacers
Coach: Frank Vogel
Best Player: David West
Overall Talent: C
Toughest Nut: Luis Scola
Overall Toughness: B+
Flash's Summary: I'm a big fan of Luis Scola. He seems like a bloke who'd be handy in a bar fight. The sort of bloke that would beg for mercy, only to then smash a bottle over your head when your back is turned. Some call that cowardly, but I call it smart. This team has built a reputation for defensive toughness, but tragically their two best defensive players won't be playing for them this season. They also have a point guard that doesn't know how to play point guard and a Center who doesn't know how to play Center.
Why they can't win: Because they couldn't win last season, and this season they are a whole lot worse.
12. New Orleans Pelicans
Coach: Monty Williams
Best Player: Anthony Davis
Overall Talent: B
Toughest Nut: Anthony Davis's Monobrow
Overall Toughness: C-
Flash's Summary: Davis is a very talented basketball player. However the Pelicans will lose more games than they win because their opponents will target him physically and there is no one tough enough on the roster to back Davis up. The support cast is simply too nice. Withey, Babbit, Asik, Anderson. These names to do not strike fear into many hearts. If I was the Owner of the Pelicans, I'd be trying to lure Panda Friend aka Ron Artest out of his Chinese semi-retirement.
Why they can't win: Because no one called the "Pelicans" is going to hold up the Trophy. It just doesn't fit.
13. Phoenix Suns
Coach: Jeff Hornacek
Best Player: Goran Dragic
Overall Talent: C-
Toughest Nut: The Morris Twins
Overall Toughness: C+
Flash's Summary: This team won a lot of admirers last season, this hard hitting freelance sports journo included. A popular pick for the wooden spoon, this band of misfit journeymen surprised everyone by gelling together to fall just short of the playoffs in the cut throat western conference. However it was a poor off-season for them, adding only Isaiah Thomas and Goran Dragic's brother, in a clear JR Smith style proxy pay rise for their star point guard. Despite plenty of pluck and grit still present on this team, their lack of talent will prove their undoing.
Why they can't win: Because each player is only allowed 6 fouls per game.
14. Denver Nuggets
Coach: Brian Shaw
Best Player: Kenneth Faried
Overall Talent: C+
Toughest Nut: Nate Robinson
Overall Toughness: B+
Flash's Summary: This is a team Flash Hawkins plans to watch a lot of this season. A lot to like about them. They are tough with the likes of Faried, Robinson, Chandler, and Ty Lawson. These guys will not get pushed around by many teams. One problem I see is the coach wants badly to be tough too, but he simply isn't. Also holding them back is one of the softest players in the NBA, Danilo Gallinari. He is guaranteed to get injured the moment someone sets a screen on him. Further, Javale McGee and Timofey Mozghov both ooze the "I'm never going to be quite as good as I should be" vibe, which of course is a problem for the powder blues.
Why they can't win: Because no one called Timofey is ever going to possess a championship ring.
15. Brooklyn Nets
Coach: Lionel Hollins
Best Player: Brook Lopez
Overall Talent: C
Toughest Nut: Mason Plumlee
Overall Toughness: C
Flash's Summary: You'd think a team owned by a Russian mega billionaire would put together a better roster than this. A haphazard collection of has beens and never will bes. In fact, it's appropriate that they wear black uniforms because this season will be one protracted funeral service for the careers of several of their players. Kevin Garnett is playing in his 20th season which means the Nets recruited him about 15 seasons too late.
Why they can't win: Because the Russian mafia doesn't get involved in US basketball.
16. Atlanta Hawks
Coach: Mike Budenholzer
Best Player: Paul Millsap
Overall Talent: C
Toughest Nut: Jeff Teague
Overall Toughness: C
Flash's Summary: The most inoffensive team in the NBA. They have very few players on their roster who don't belong in the NBA. But nor do they have anyone who demands to be showered with praise by NBA observers. No one is talking about the Hawks and this is precisely why. They are neither good enough or bad enough to warrant discussion. They are hidden beneath a blanket of ho hum middle of the pack mediocrity. However, just like the Wiggles version of Jeff, Jeff Teague is a "sleeper" for the All Star game, in the view of this humble hard hitting sports journo. Worth a punt.
Why they can't win: Because Kyle Korver will not stop wearing those knee high socks.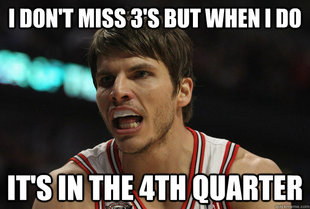 17. Charlotte Hornets
Coach: Steve Clifford
Best Player: Lance Stephenson
Overall Talent: C+
Toughest Nut: Jason Maxiell
Overall Toughness: A-
Flash's Summary: The newly re-renamed Hornets (not to be confused with "Whore Nets" like Garnett, Johnson and Williams who only play for Brooklyn because of the money) are a team on the rise. I really love the toughness on this team. Lots of bruisers who will relish a good scrap. In fact they are so tough that Cody Zeller looks more out of place than the Queen of England competing in the annual Parabadoo Mud Wrestling tournament. Unfortunately, they strike me as the team that will win the fight but lose the game.
Why they can't win: Because punching people doesn't help get the ball in the hoop.
18. Miami Heat
Coach: Erik Spoelstra
Best Player: Dwyane Wade
Overall Talent: B
Toughest Nut: Chris Anderson
Overall Toughness: B-
Flash's Summary: Last year's bridesmaids were left reeling from the departure of Lebron James in the offseason. But Pat Riley is harder to kill than Louis the Fly. They lose a James but pick one up, one James Ennis, who was sent to Australia to harden up and harden up he did. He looks a real player now. Riley also managed to keep Bosh and acquire Luol Deng. This plus pride will see them into the playoffs, but Dwyane Wade on one leg and the-surprisingly-soft-for-his-size Chris Bosh won't be able to drag this mob past the first round.
Why they can't win: Because Lebron took his talents away from South Beach.
19. Toronto Raptors
Coach: Dwane Casey
Best Player: DeMar DeRozan
Overall Talent: B
Toughest Nut: Kyle Lowry
Overall Toughness: B
Flash's Summary: Clearly the best team in Canada. Plenty to like about them too. Kyle Lowry is a junkyard dog who appears to have few scruples to hold himself back from infecting his opponents with rabies. Tyler Hansbrough also somewhat makes up for his lack of talent with a healthy dose of thuggery. DeMar DeRozan is as smooth as silk but just as fragile.
Why they can't win: You aren't allowed to own as many guns in Canada as you are in the US.
20. Washington Wizards
Coach: Randy Wittman
Best Player: John Wall
Overall Talent: B
Toughest Nut: Paul Pierce
Overall Toughness: B
Flash's Summary: Plenty of people are getting excited about the acquisition of Paul "the Truth" Pierce. But the truth is, the guy he has replaced, Trevor Ariza, is probably better at this point in both of their careers. Marcin Gortat seems determined to look like an actual Wizard with a zany beard and what can only be a prosthetic nose. Nene can be great but only when he cares, which is about 10% of the time. The Wizards need that 10% to be in May/June. After last seasons playoffs, their leader, John Wall, has a whiff of "choker" about him. This is something he would want to deoderize with good performances when it matters this season.
Why they can't win: Because AC is more effective than DC.
21. Houston Rockets
Coach: Kevin McHale
Best Player: James Harden
Overall Talent: B
Toughest Nut: Patrick Beverley
Overall Toughness: B
Flash's Summary: Houston had their pants absolutely pulled down by Mark Cuban and the Dallas Mavericks with a perfectly executed raid on Chandler Parsons. Houston, thinking they were in with a chance with Carmelo, refused to match the offer on Parsons. Lo and Behold, Carmelo doesn't come. In the mean time they upset Jeremy Lin by putting up a welcome poster of Melo when he visited wearing the number Lin currently was wearing. Lo and Behold, Lin packs his bags for LA. Finally, they try and convince Chris Bosh to come, but Bosh was fed up with being the third best player on a team and instead opted to lead the post Lebron era at Miami. At Small Forward they now have a cashed up Trevor Ariza instead of Chandler Parsons, hungry to get paid in a contract year. I'm guessing that's a downgrade. So, in short, a nightmarish summer for Houston.
Why they can't win: Because if McHale and Olajuwan can't teach Dwight Howard any useful moves, nobody can.
22. Memphis Grizzlies
Coach: David Joerger
Best Player: Marc Gasol
Overall Talent: B
Toughest Nut: Tony Allen
Overall Toughness: A
Flash's Summary: Why on earth did they sack Lionel Hollins? I could understand if they had lured Gregg Popovich or Phil Jackson, but instead they replace a perfectly respectable coach with a bit of a tool. Love the number of cabbage ears on this roster. With their tough defense they will stick to teams like semen on a playboy mag. No one will want to play them early in the playoffs. They'll get beaten, but the team that advances will be worse for wear in the next series.
Why they can't win: Because fat men can't jump.
23. Portland Trailblazers
Coach: Terry Stotts
Best Player: LaMarcus Aldridge
Overall Talent: B
Toughest Nut: Thomas Robinson
Overall Toughness: B
Flash's Summary: Surprised many with their performances last season. Aldridge is a genuine star and Lillard is marketed as one. Got rid of Mo Williams before the "first year with a team honeymoon effect" wore off in a smart offseason move. In a not so smart move they brought in a couple of white guys  a bit too past their prime to be much use in Steve Blake and Chris Kaman. Will be surprised if they repeat last year's effort.
Why they can't win: Because anyone who thinks Sideshow Bob hair is a good idea is not going to make good decisions down the stretch of an important playoff game.
24. Dallas Mavericks
Coach: Rick Carlisle
Best Player: Dirk Nowitski
Overall Talent: A-
Toughest Nut: Tyson Chandler
Overall Toughness: A-
Flash's Summary: This mob has the second best coach in the NBA, hands down. They also have the owner with the biggest balls and the deepest wallet. Both of these are good things. They picked up Parsons, weakening a fellow rival in Texas, brilliant stuff. They took last season's champs to 7 games and they seem better this year, on PAPER. Unfortunately, this roster is so old it makes the joke, "why did the chicken cross the road?" seem like a revolutionary piece of comedy.
Why they can't win: Because Dirk's body is so worn down, unless he perfects the "no legged fadeaway", he won't be able to drag them over the line.
25. Golden State Warriors
Coach: Steve Kerr
Best Player: Stephen Curry
Overall Talent: A
Toughest Nut: Andrew Bogut
Overall Toughness: A-
Flash's Summary: One of the best teams to watch. Steph Curry is a better shooter than Dirk Diggler on viagra. He is also tougher than he looks, holding his own against the mauling he received by the Clippers in last years playoffs. Lots of enforcers on the team too, with Aussie Andrew Bogut, Draymond Green, and Speights leading the charge. The Shirtfront is also a huge fan of "Uncle" Festus Ezeli: a monstrous body with little coordination, which is always an entertaining combination. Their ownership appears to think being able to make obvious observations as a commentator on ESPN is the foundation to being a successful coach. Their previous two appointments both had such a grooming. Call me old fashioned, but if you need a brain surgeon, you don't hire a gynaecologist.
Why they can't win: Because, just like the last two seasons, Andrew Bogut will get injured in some peculiar way right before the playoffs.
26. LA Clippers
Coach: Doc Rivers
Best Player: Blake Griffin
Overall Talent: A
Toughest Nut: Deandre Jordan
Overall Toughness: A
Flash's Summary: Blake Griffin is an absolute rip snorter. Has the power to drag them deep into the playoffs on his own. And he'll need to because this team has more problems than the media admits. They have a collection of rubbish at small forward. The best of the bunch is a bloke that looks like a Mexican drug lord. Another problem is that Deandre Jordan is as dumb as he is tough. Thirdly, Chris Paul, a man who gets many plaudits, is vastly overrated. He has an entertaining skill set, but his post season record ultimately brands him as a perennial loser. In elite competition, you have to grab victory by ripping it from the throats of your opponents. Something tells me Paul doesn't have it in him.
Why they can't win: Because Steve Ballmer will be recorded telling his girlfriend she can't hang out with Billy Crystal because he doesn't like comedians and, given a Will Ferrell lookalike plays on the team, Adam Silver will be forced to ban Ballmer from the league.
27. Chicago Bulls
Coach: Tom Thibodeau
Best Player: Derrick Rose
Overall Talent: B+
Toughest Nut: Joakim Noah
Overall Toughness: B+
Flash's Summary: This team will make the conference finals, but only because the Eastern Conference is so pathetic. Ultimately just an average team hoping like hell that Derrick Rose can once again become the pseudo MVP he was (let's be honest, Rose won that MVP because the journos were sick of voting for Lebron). People point to free agent signing Pau Gasol, but at this point in his career, he's just a taller version of Carlos Boozer.
Why they can't win: Because if you're going to start a white guy with limited talent (Dunleavy Jr) and you want to win a title, you want that white guy to be Luc Longley, and you want the other 4 guys to be Jordan, Pippen, Rodman and Harper.
28. Oklahoma City Thunder
Coach: Scott Brooks
Best Player: Kevin Durant
Overall Talent: A
Toughest Nut: Steven Adams' Moustache
Overall Toughness: A+
Flash's Summary: So much to like about this team. They have 2 of the top 10 most talented players in the NBA, and they are tougher than a skinny dipper in the Antarctic. The missing piece of the puzzle is Kevin Durant's personality defects. He acts a bit too much like a cry baby on the court, regularly earning tech fouls for whingeing to the umps. Not a good look. His MVP acceptance speech might have been heartwarming for some, but for me, it showed he is still a bit too much of a mummy's boy. Harden up son, a championship is within your reach! And any James Harden reference was purely unintentional.
Why they can win: If the Spurs get injuries and OKC don't, in with a real chance.
29. Cleveland Cavaliers
Coach: David Blatt
Best Player: Lebron James
Overall Talent: A+
Toughest Nutcase: Dion Waiters
Overall Toughness: B-
Flash's Summary: The way Lebron left Cleveland four years ago, he came off as a complete tosser. They way he returned to Cleveland was classy, assuming he came back for the reasons he outlined in his now famous open letter. If the real reason he came back was because he read Dwyane Wade's medical report, then he is still a complete tosser. That aside, this team is guaranteed to make the NBA Finals. No Eastern conference team comes close to being as good. Miami was clearly the best last season and this season Cleveland is basically the same team, only with a better version of Bosh and Wade. Further good news comes in the form of the steadying influence of Irving and Dellavedova, good Aussies, born and bred.
Why they can win: If they play OKC, nerves could get the better of KD facing his nemesis from a few years ago.
30. San Antonio Spurs
Coach: Gregg Popovich
Best Player: Tim Duncan
Overall Talent: A
Toughest Nut: Patty Mills
Overall Toughness: A+
Flash's Summary: The best coach, the smartest owner, Patty Mills, the best conditioning staff, the best system under current NBA rules, Patty Mills, the most intuitively connected roster,  the fattest fans, the most feared franchise, Patty Mills. Need I go on?
Why they can win: Only father time can slow this team down.
So there you have it folks, the only power rankings you'll ever need to read this season. Sorry if you didn't want spoilers. In short, if the Spurs make the finals, they win. No team in the East scares them. If the Spurs face OKC at all in the playoffs, it then becomes a 50/50 proposition. If OKC squeaks past the Spurs, then, unless they play Cleveland, they will win. If Cleveland face anyone other than the Spurs in the finals, they will win. Until next time, this is your favourite hard hitting freelance sports journo Flash Hawkins signing off!